This is Why the Mercedes-Benz E-Class Stands Out
In the highly competitive field of luxury sedans, you may be wondering what makes the Mercedes-Benz E-Class special? If you value finely crafted exterior and interior design, advanced driver safety aids, and a top-quality driving experience, you will see why the E-Class is in a class of its own. Explore some of the newly redesigned E-Class features and discover why it is widely recognized as a choice luxury car.
Performance
The E-Class E 300 comes standard with a turbocharged 2.0-liter four-cylinder engine that produces an impressive 241 horsepower and 273 pound-feet of torque. When you choose the E-400, you get a turbocharged 3.0-liter V6 engine with 329 horsepower and 354 pound-feet of torque. That means the next time you find yourself going into a tight corner in the Signal Hill area, you will have more than enough power and control to handle yourself.
The E 300 sports such standard performance features as a nine-speed automatic transmission, selectable drive modes, and an adaptive suspension. No matter what the driving situation calls for, Downey drivers will be prepared with smooth control and precise execution.
The E 400 comes equipped with all that the E 300 offers but with additional features such as a Mercedes-Benz AIRCAP® wind deflector and additional wheel choices depending on your choice of Sport or Luxury versions. The Sport comes with larger wheels and sport-tuned suspension and brakes, while the Luxury comes with a selection of wheel choices.
Regardless of whether you choose the E 300 or E 400, the E-Class creates a balanced and powerful driving experience. You will be pass easily with the snappy acceleration, merge or take corners safely with exceptional steering and handling, and stop on a dime with precise braking.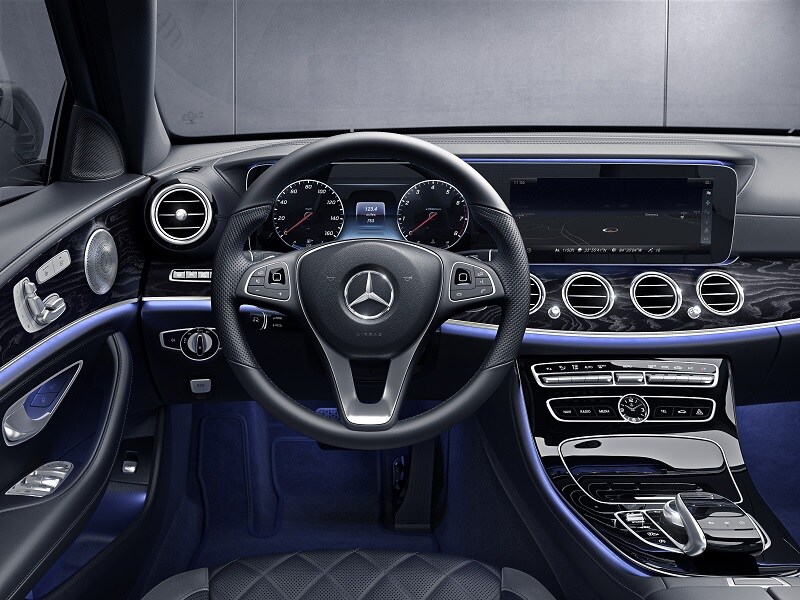 Exterior Design
Both the E 300 and E 400 come with top-of-the-line exterior design and features. Both have a sleek, sophisticated appearance. The E 300 comes exclusively in a sedan body style while the E 40 is available in sedan, wagon, coupe, and convertible body styles.  Some exterior features that drivers in Carson should note are the E-Class's LED headlights, automatic wipers, and heated, power-folding mirrors. the
Interior Design
As soon as you enter the Mercedes-Benz E-Class, what will be most striking is the level of comfort and personalization that is possible. When you take a seat, you will notice that the seats are supportive yet pliable with the option of active bolstering, which minimizes body-shift during especially enthusiastic driving. The power-tilt-and-telescoping steering wheel and a wide range of seat adjustments allow for the perfect fit for all sizes of drivers.
Since the E-Class was built with a smooth, comfortable ride in mind, imperfections in the road will be considerably muted. As soon as Lakewood drivers take the E-Class out on a busy road, they will notice that the cabin is exceptionally quiet, blocking out the noise of the engine, tires, and dull roar of the traffic. The quality of the interior is built to last with fitments, dials, buttons, and switches that fit together seamlessly, giving the sense of there being no unnecessary or crowded space.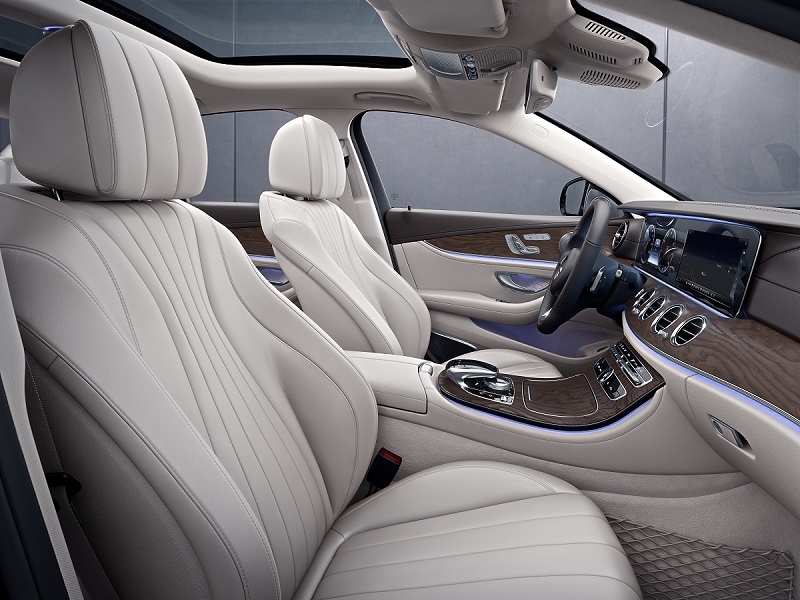 Make an Inquiry
* Indicates a required field
Technology Features
The Mercedes-Benz E-Class comes equipped with an innovative touch-screen infotainment screen that makes audio control and navigation intuitive and effortless. With this age of smartphone connectivity being essential, the E-Class offers Android Auto and Apple CarPlay standard not to mention wireless smartphone charging. Drivers in the Long Beach area can also expect a suite of driver assist aids that allow for a semi-autonomous driving that is ideal for commuting on highways.  
When you drive a Mercedes-Benz E-Class, it quickly becomes evident that you have transcended into a new plane of luxury. Visit us and schedule a test-drive so that you can experience for yourself how it feels to drive a car that stands in a category of its own.